What is "Facebook Facebook Battle"?
"Facebook Facebook" Battle Of The Pages is one of the simplest ways you can compare your Facebook content against the competition and learn your Facebook's content overall rank. By submit your Facebook Pages into our "Battle Of The Pages" feature, you can learn what visitors like about your competitors and try to make your Facebook Pages better. It can help you understand what styles are more appealing to the visitors, and correct your content accordingly.
The goal is to achieve the higher public appeal,
and you can use this feature (tool) to do so.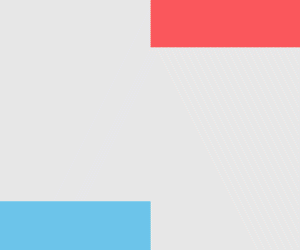 First impressions! - 20 seconds test
Understand visitors first impressions is vital for you progress. By finding out what visitors thinks about your design in just 20 seconds, you can ensure that your message is being communicated as effective, as possible. This short exposure tests can help you fine tune your landing pages and calls to action, by analyzing the most prominent elements of your design.
How does it work?
Visitors compare two Facebook Pages and chose the better. There are no hidden motives for the visitors to answer incorrectly. As a matter of fact, they are rewarded only if their opinion is in line with the majority of other visitors. The choosing process is objective and should give you the rough idea what average visitor likes more.

Benefits of "Facebook Facebook" Testing?
By using Battle Ranking, you can simultaneously submit and compare multiple Web Pages and monitor their performance. You do not need to use any specialized testing applications and modify your source code. The design of the pages can be distinctively different from one another and by using the Overall Battle Rank at the and of the day, you can see which page design works better for you.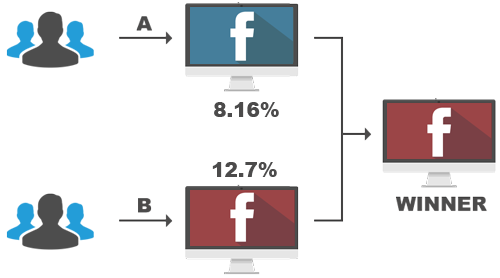 Shift "We Think" to "We Know"!
Testing takes the guesswork out of website optimization and enables data-backed decisions that shift business conversations from "we think" to "we know." By measuring the impact that changes have on your metrics such as sign-ups, downloads, purchases, or whatever else your goals may be, you can ensure that every change produces positive results. Quantitative data speaks for itself. You and your coworkers may have hunches about how site visitors will respond to certain design elements, but this kind of testing will give you the quantitative confirmation, or tell you if you have made a mistake that can cost you your revenue, rank and popularity.
On the other hand... Constantly testing and optimizing your page can increase revenue, donations, leads, registrations, downloads, and user generated content, while providing teams with valuable insight about their visitors.
Compare Multiple Facebook Pages!
There are no limitations, on how many pages you can submit to our Battle Of The Pages feature. They all are equal from our point of view, and can faster get you to achive better results.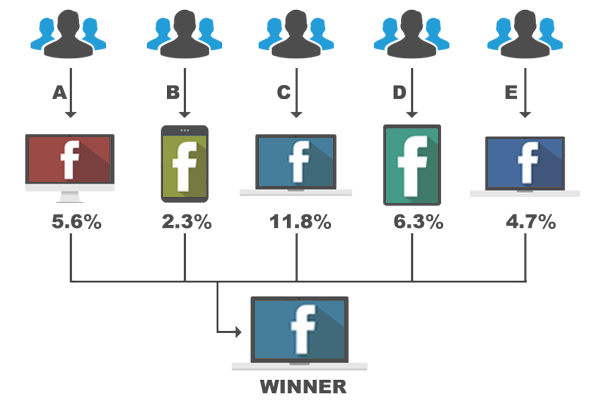 "Facebook Facebook" Battle Steps
1. Register to Hit4Hit.org
2. Navigate to "Battle Pages" >>> "My Battle Pages"
3. Submit your Facebook URL's you want to compete in the battle.
4. Navigate to "Battle Pages" >>> "Battle" and start the battle!


Notice: All Earn and Manage pages have a "Help" button where you can get more information...
Join Hit4Hit.org Community Today!